Storytelling: Simple and Powerful Strategies to Promote Vegan Products
ON DEMAND WEBINAR
(register and receive access to the recording immediately)
Do you hear everywhere how storytelling matters but wonder how telling stories about your brand, your vegan products and your customers will help you stand out on the market, increase trust and loyalty, and possibly increase sales or reach new segments?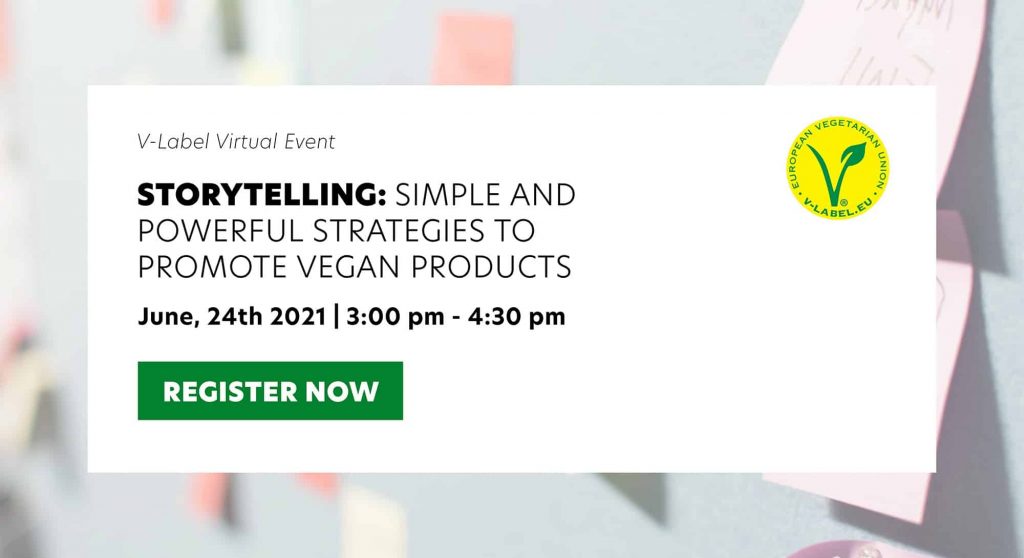 Webinar description:
Capture your consumers with storytelling and build a stand-out vegan product
In our webinar, you will get a clear understanding on how storytelling encompasses everything you do as a company, and how to use it to your advantage: from do's and don'ts to storytelling foundations on the vegan and vegetarian food market to ways of engaging customers and sparking long-term loyalty. You will also hear concrete case studies from industry leaders as well as how to amplify your brand from an influencer's point of view.
How do you position yourself in a dynamic market with new players coming in every day?
Is there a way you can clearly, consistently – and in a compelling way – communicate the unique benefits of your products, and the company, process and people behind them? And if you decide to build your brand to stand-out, how do you actually start so it's less work rather than more? Learn everything you need to know to succeed in your storytelling strategy.
About V-Label
Across the globe, more than 50,000 products from more than 4,300 licensees now carry V-Label. V-Label, established in Switzerland in 1996, is an internationally recognized, registered seal for labeling vegan and vegetarian products and services. It is a reliable, go-to shopping guide for consumers.