Vegan cosmetics Market: Key Innovations and Most Popular Vegan Ingredients
The vegan cosmetics market is constantly evolving, whether with new ingredients or with innovations.
V-Label, the world's leading vegan and vegetarian trademark, has prepared this article so that you can:
Learn the key innovations that are going on right now
Learn the most popular vegan alternative ingredients to replace animal-derived ingredients
Let's get started.
Key Innovations in Ingredients
Finding alternatives to animal-derived ingredients hasn't always been easy. However, technology and science have progressed at a high-speed level and now we have good plants and synthetic alternatives available. This has made vegan cosmetics not only a reality but also a force on the market.
So let's jump right in and see the top 6 key ingredient innovations paving the way for vegan-friendly cosmetics:
PHENOBIO™
Phenobio is a subcritical water technology, an extraction methodology recently incorporated into Lipotec™ Active Ingredients' portfolio. This technology helps obtain eco-conscious enriched botanical extracts as it recovers a broad spectrum of the plant's phyto actives.
With this technology, there is no need to use harmful chemical solvents that may damage the environment. So if you are going for an environmentally-friendly product, using PHENOBIO is a good call.
Cannabidiol (CBD)
Cannabidiol-based cosmetics are rapidly gaining popularity and is used in skin care products such as facial serums, creams, moisturizers, masks, body lotions, and lip balms.
What are the main benefits of this ingredient?
redness reduction
improved skin tightness
Mushrooms
Mushrooms? Seriously! Though it may sound weird to use mushrooms, they are one of the most popular and widely used ingredients in vegan skin care products. Shiitake, tremella, reishi, chaga, and other adaptogens have positive side effects on our skin.
The three main benefits of using this ingredient are:
Hydrates the skin
Helps to soothe the skin
Acts as a purifier for the skin
Retinoids
Retinoids are a very effective anti-ageing agent, and in the case of skincare, it's of synthetic origin because it's impossible to get stable, bio-available retinol from natural sources.
However, retinoids can be a problematic ingredient, as not everyone reacts to them well. People with sensitive skin conditions usually avoid this ingredient.
So that's where our next key innovation in vegan cosmetics comes.
STEVISSE™
First, let's talk about Stevia. Stevia is used as a skin-smoothing and anti-wrinkle remedy; it can be considered an ingredient similar to retinoids for its qualities. But that's not it. You can combine this ingredient with the PHENOBIO technology and get:
This vegan-friendly ingredient is an organic stevia leaf-based extract that offers a gentler and more natural alternative to retinoids for similar rejuvenating results without the negative side effects. So consider combining Stevia with Phenobio technology if you want to go to the next level.
Collume®
This ingredient is a 100% animal-free collagen technology designed for skincare products. Its main benefits are:
It increases skin firmness and elasticity, and improves skin moisturization as compared to traditional marine collagen
It's a cleaner ingredient compared to traditional animal-derived collagen, made through a sustainable fermentation process, delivering superior purity and sensory appeal
This vegan collagen was created by the company Geltor, which also has other interesting vegan collagen alternatives that you can check out here.

Key Vegan Ingredients
As you may know, there are plenty of animal ingredients in cosmetics. Luckily for us, there are now many vegan options we can use. So let's check out how to replace animal-derived ingredients with vegan ingredients in cosmetics:
Keratin
Keratin is among the most widely used shampoo and conditioner ingredients. The problem? It comes from the hairs and horns of animals. In vegan products, it's often replaced by soya protein and almond oil.
Also, the properties of keratin can be mimicked by, for instance, the synthesis of amino acids extracted from grains of rice, wheat, etc., that creates hydrolyzed proteins that act as a vegan alternative to a conventional keratin treatment.
Lanolin
Lanolin is used as a softener in hair products and comes from sheep wool. Vegan alternatives can be sourced from plant oils (coconut or olive) and butters (shea or coconut).
Beeswax (Cera Alba)
Beeswax is an ingredient produced by honeybees. Its use in cosmetics has been increasing in products such as moisturizers, hand creams, eyeliners, and eyeshadows. So what are the vegan alternatives for beeswax?
Carnauba wax
Candelilla wax
Olive wax
Soy wax
And many more.
Carmine/Cochineal
This is one of the star ingredients in the cosmetics industry. Although carmine is known for the "beautiful" and intense colour it gives to some cosmetics, we wouldn't call the way it's made beautiful at all: carmine/cochineal comes from crushed female cochineal insects.
A vegan alternative could be red iron oxide. Plant-based pigments, such as beetroot powder or sweet potato, can also be used to add colour to cosmetic products.
Glycerin
Another common ingredient in cosmetics is glycerin. It's found in 54.62% of all cosmetics products. It can come from animal fat but also from plant-based sources. It can be found in moisturiser and anti-ageing cream products. Vegetal glycerin exists and is made from soybean, coconut, or palm oils.
Squalene Oil
This ingredient comes from shark livers. It's used as a moisturizer for skin and also for anti-ageing products. Squalene is not exclusive to shark livers though: it can be also found in plant-derived versions, which are called squalane.
Squalane is a stabilized version of squalene, so it is less prone to breaking down by exposure to sun, oxygen, or light. It has a longer shelf life and is easier to formulate with other ingredients.
Olive squalane is the most popular vegan version. You can also find squalane in wheat germ, rice bran oil, and amaranth oil.
Hyaluronic Acid
Being one of the most famous ingredients used in cosmetics, it comes from poultry or bacteria-based biofermentation. It's normally used on skincare products for hydration.
Hyaluronic acid can be plant-based through bacteria-based biofermentation.
When selling a product with this ingredient, consumers will not be able to know if the hyaluronic acid is derived from animals or from plants unless they check it on the producer's website or the product is labelled as vegan.
Capric/Caprylic Triglyceride
It comes from the liquid fatty acid from plant sources or goat's milk. It's used to soften skin in skincare products and also in anti-aging serums.
Capric/Caprylic Triglyceride can be plant-based itself since it can be derived from coconut, palms, figs, and other sources. For this ingredient, consumers would also have to check the sourcing with the producer unless the product is labelled as vegan.
Shellac
This ingredient comes from bug secretions, and is used for the glossy appearance it provides to cosmetics. The vegan alternative for this ingredient is called Zein, and it's made from corn protein.
Allantoin
Allantoin comes from the uric acid of cows and other mammals. It's used as a skin conditioning agent and protectant. You can find it in skincare and bath products, eye makeup, hair care, and oral hygiene products. The vegan alternative can be found in plants, such as comfrey root, horse chestnut, and bearberry, or it can be made synthetically.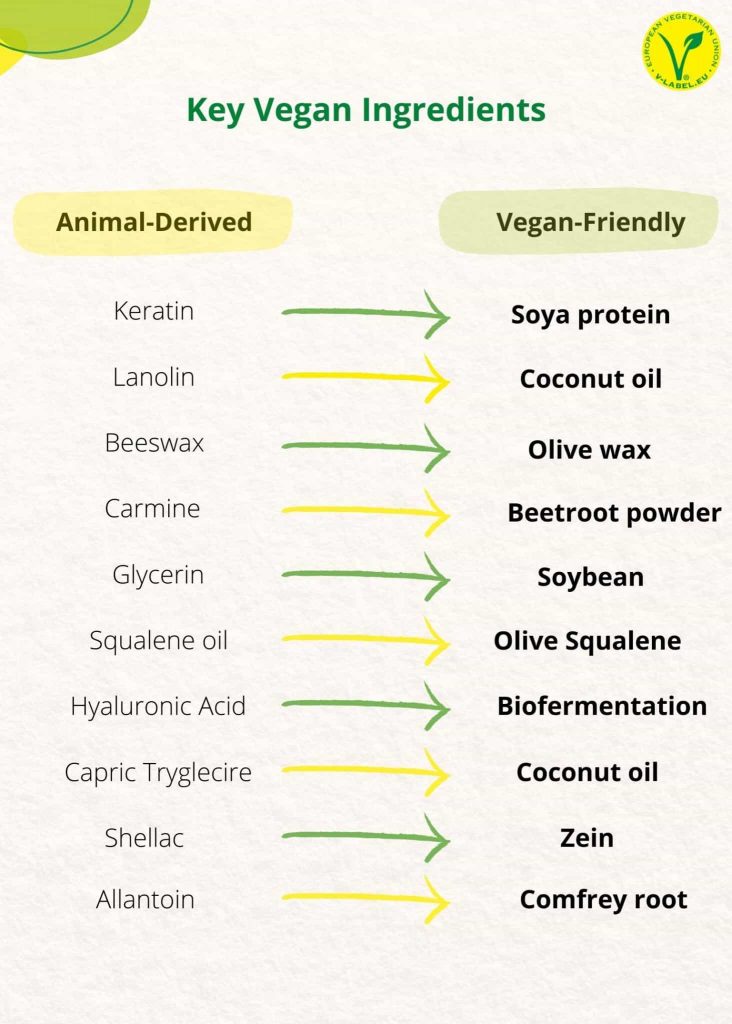 What's next
As you can see, there are some really interesting innovations to take advantage of and many vegan replacements for animal-derived ingredients. The vegan cosmetics market is full of opportunities. If you want to learn more, check out our webinar on vegan cosmetics or download our White Paper.