V-Label's Food Industry Guide: Plant-Based Fish & Seafood
Dive into the challenges and opportunities of arguably the most exciting segment of the vegan food industry
The global consumption of fish and seafood is estimated to rise to 21.5kg per person in 2030, all while the natural resources are being compromised and millennials' palate for a fish-like experience is ever-demanding. There's so much to discover in these waters.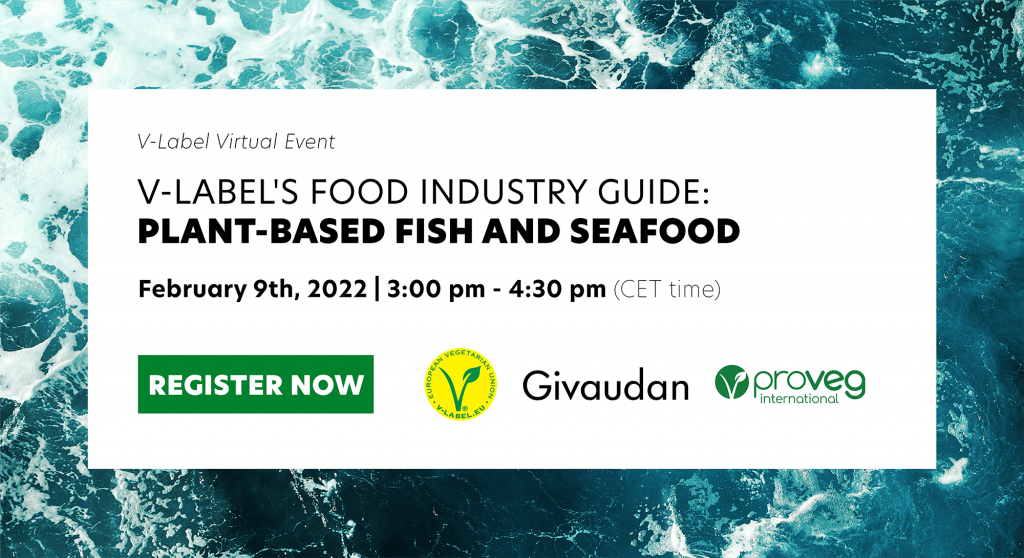 Plant-based fish and seafood is one of the top trends in the near future: the demand is growing tremendously, especially from European flexitarians asking for plant-based alternatives to salmon and tuna (as seen in the Smart Protein survey in November 2021).
The global consumption of fish and seafood is estimated to be 21.5kg per person in 2030 while already 90% of the worldwide marine fish stocks are fully exploited, overexploited or even depleted. There is more than an urgent need for environmental and plant-based alternatives, and we are offering a compass to help you map out how to enter and navigate this market.
For this event, we are featuring speakers from all over Europe:
Lucas Huber – Category Manager Proteins Europe, Taste & Wellbeing (Givaudan)
Charles Fouquet – Co-Founder and CEO (Onami Foods)
Celina Condorovici – Marketing Manager (Unfished / Prefera Foods)
Mathilde Alexandre – Senior Project Manager – Food Industry and Retail (ProVeg International)
Jenifer Linares – Marketing Manager (V-Label)
Swantje Tomalak – moderator
About V-Label
Across the globe, more than 50,000 products from more than 4,300 licensees now carry V-Label. V-Label, established in Switzerland in 1996, is an internationally recognized, registered seal for labeling vegan and vegetarian products and services. It is a reliable, go-to shopping guide for consumers.