V-Label partners with Free From trade fairs
V-Label, the world's leading vegan and vegetarian trademark, announces a new partnership with Expo Business Communications, the organiser of the Free From Functional Food & Ingredients Expo. Companies whose vegan and vegetarian products are licenced by V-Label may now benefit from an attractive participation package for the upcoming fair in Amsterdam.
The 11th edition of the Free From Food Expo will take place on 21-22 November 2023 in RAI Amsterdam. The event promises to be the most focused, dynamic, and exciting Free From Food edition yet providing insight into the most important food lifestyle trends as well as what will be on the shelves five years from now.
"Because of the partnership we can offer V-Label licensees a very attractive participation package for the upcoming fair in Amsterdam," comments Suzet Miedema, V-Label's Business Development Manager. "Free From now offers a low-threshold all-in package for V-Label licensees. The collective presentation offers strong exposure, and in doing so, this participation is concentrated within an own V-Label Pavilion at a top location at the fair with an open appearance for perfect visibility."
Free From Fair is the most wanted European Free From Food retail exhibition, initiated by the industry, and supported by the leading certifying associations, all under one roof. Driving the future of Vegan, Plant-Based, Free From, Organic, Functional, and Healthy Lifestyle Food, Drinks, and Ready to Market Solutions.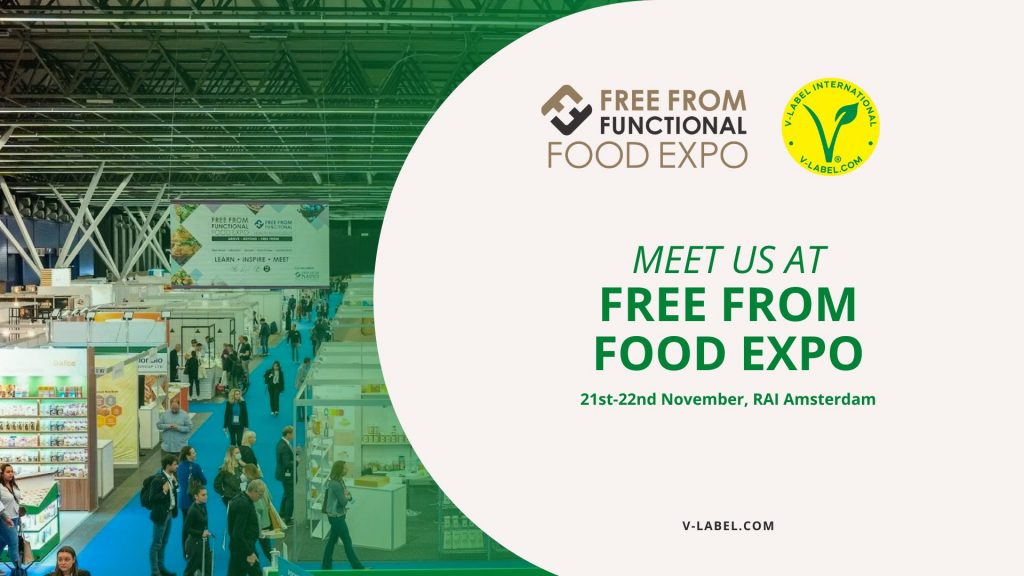 "We are happy to work together with V-Label in order to offer the food producers our platform to present their Vegan and Vegetarian food proposition to our high-profile audience from Retail and Foodservice," said Chris Gottschalk, Sales & Marketing Director from Expo Business Communications. "Consumer behavior is driving retail even more towards plant based solutions, so with this partnership our contribution is evident."
During Free From Amsterdam 2023 hundreds of international manufacturers and brands within the food & beverage industry will present their newest product innovations. Relevant products that are ready to be placed on the supermarket and food service shelves, as well as on the menus within the catering & hospitality industry.
Throughout the Free From Expo & Conference Amsterdam 2023 thousands of food professionals will visit more than three hundred exhibitors within two days. Additionally, more than sixty international and local keynote speakers will answer questions such as: What does the consumer want? What products connect to this and which parties can make these products?
Companies and brands that are interested in exhibiting with V-Label can simply fill out the registration form by September 1st or contact Suzet Miedema directly for more information.
Press Contact: Tim De Smet, Communications Manager, tim.de.smet@v-label.com