V-Label launches online store for European consumers to try new vegan products
V-Label, the world's leading vegan and vegetarian trademark, has launched an online e-commerce store. In the first months, European consumers can buy the V-Label Box, which contains an all-vegan, V-Label certified assortment of products coming from a variety of producers from different countries. Later in the year, selected products, including hoodies and t-shirts, will be added to the store. Across the globe, more than 50,000 products from more than 4,300 licensees now carry V-Label.
According to the international V-Label team that is behind the new online store, the launch was the next logical step when it comes to building on the relationship V-Label has with both producers and consumers.
"Our position is unique in the sense that we stand between the producers and consumers. Both producers and consumers may now benefit from the V-Label Box," explains Suzet Miedema, V-Label International's Business Development Manager. "For businesses and brands that are not present in selected markets, they are able to introduce their vegan product to consumers all over Europe."
The same benefit is present for consumers, as well. They now have the opportunity to try many different products in one convenient package, some of which are otherwise unavailable in their countries. Producers that are interested in being featured in the next editions of the box may reach out to Suzet Miedema directly or their local NGO partner.
"We of course could not have launched the V-Label Box without our local partners, who have certified the products. We are also immensely grateful to the business partners who are working with us on the box and allowing consumers to make kinder choices," adds Suzet Miedema.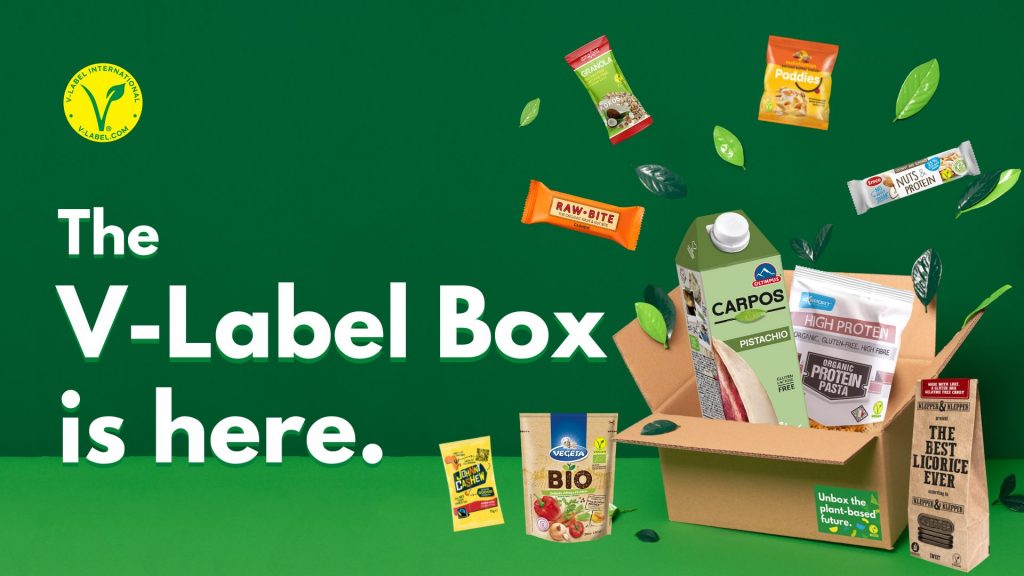 Increased brand awareness and consumer trust
"According to FMCG Gurus, 34% of European consumers know V-Label, and that number is higher in specific countries like Spain, Sweden, or Austria, where 40% responded affirmatively. Moreover, consumers do not see V-Label only as a helper when it comes to identifying vegan or vegetarian products," shares Alejandro Gómez Hombrados, V-Label International's Consumer Insights Specialist.
According to the consumer survey, 69% of consumers who are aware of V-Label associate products with the V-Label with being healthier and 59% more trustworthy. For businesses and brands, these facts can also shed light on what makes 40% of European consumers willing to pay a premium price for a product carrying the V-Label.
The V-Label Box will offer several box editions throughout the year. Every box launch will be supported by influencer marketing campaigns across Europe, therefore increasing brand visibility for the producers and brands that will be in the current box.
"The newly launched online store featuring the V-Label Box and merchandise is part of a brand awareness campaign," explains Martin Ranninger, V-Label International's Co-Director. "We are very excited to share more information about the awareness campaign soon. More than anything, it builds on the years of V-Label's experience and trust that consumers globally have towards the trademark."