Did you know that according to Euromonitor International, the plant-based market in Western Europe has doubled in size in the past decade alone, accounting for 38.5% of total global revenue?
While the global plant-based food market is expected to grow at a rate of 8.94%, the protein sector itself is going to accelerate by 18%, reaching the $28 billion threshold by 2025. Launch after launch of vegan start-ups supports the statistics already: they are focused on meeting the growing demand for vegan beef, fish, cheese, milk, yogurt, eggs, pastries, vitamins, and supplements, each a booming niche itself. Moreover, niche products have made their way into traditional retail chains, and established food producers are introducing vegan and vegetarian lines.
Interestingly, this is just the beginning. According to ProVeg International, rising investments in tech innovation ensure that the taste, texture, and mouthfeel of these products will only continue to improve with further ingredient and processing advancements. As the most recognized vegan and vegetarian label in the food segment, having a V-Label means you benefit from this unprecedented market growth.
The Plant-Based Market
Overview
The global shift towards plant-based diets has an impact on the food industry, according to GFI. The retail market for plant-based food is worth €5.7 billion in 2023 (from €4.6 billion € in 2020), and the value of plant-based food sales grew by 15% between 2020 to 2021, of which 6 p.p. between 2021 and 2022. This growth was 22% for unit sales between 2020 and 2022, 4 p.p. of which between 2021 and 2022.
The most significant sales growth per category is seafood (60%), which is the least developed but fastest-growing category. Plant-based milk is the most developed of all categories as the sales are the highest.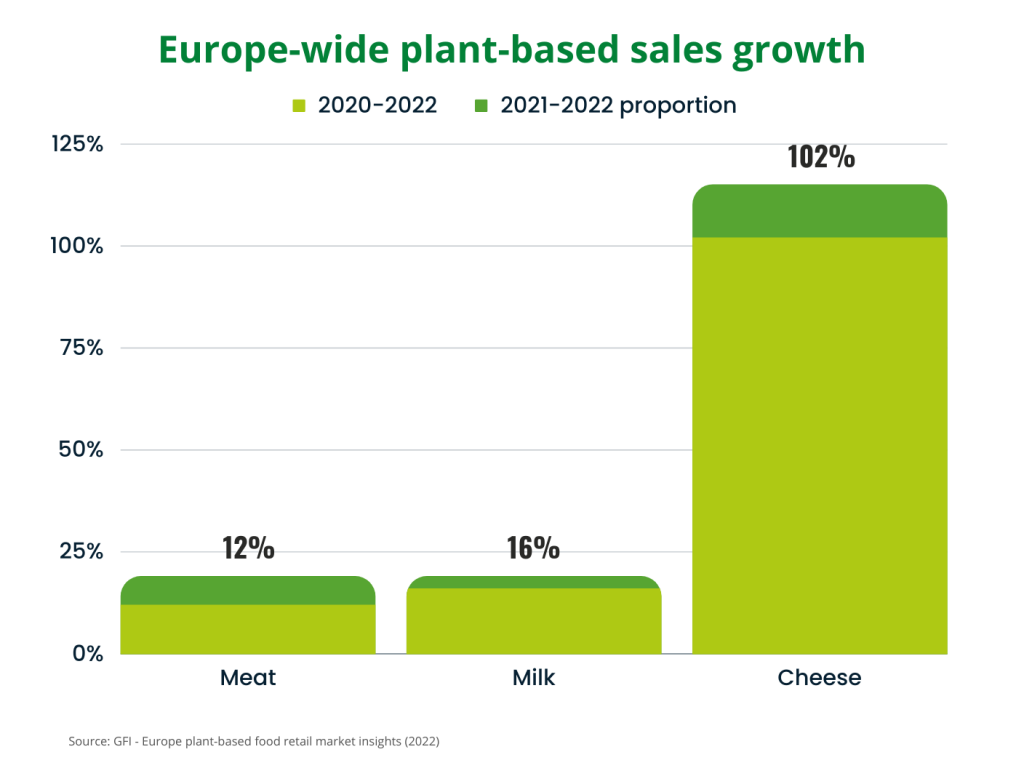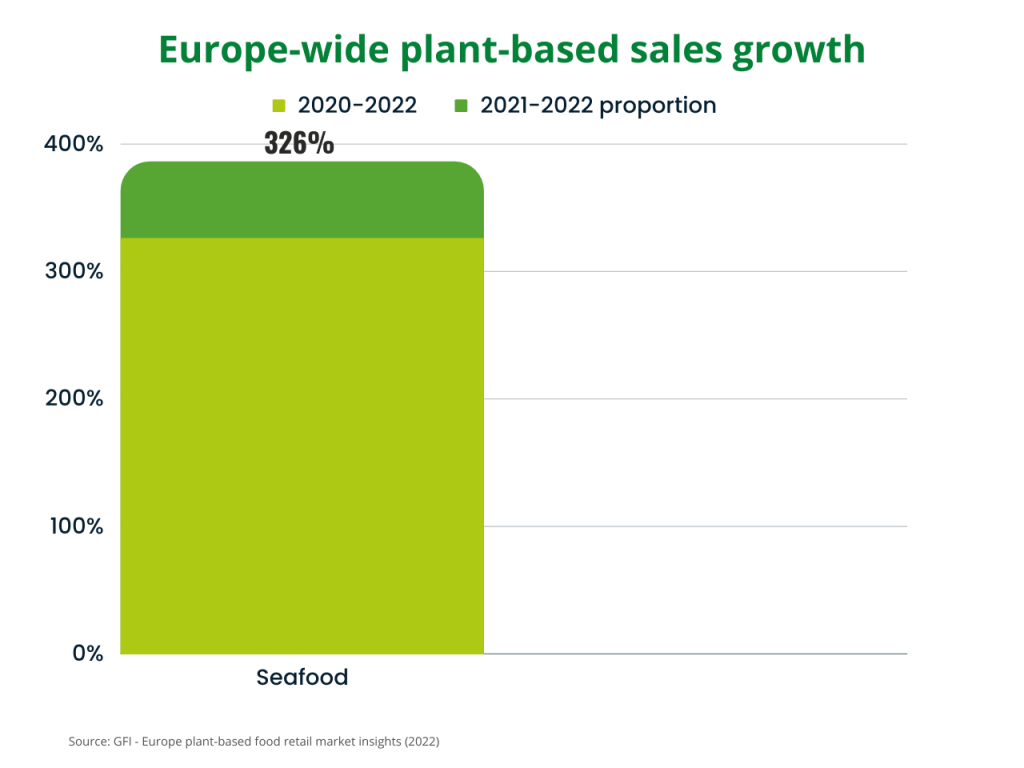 According to GFI's 2022 State of the Industry Report, Germany has the highest plant-based food sales value in Europe, but the Netherlands has the highest average plant-based food spend per capita. Plant-based markets grew in milk (+6%), meat (+1%), cheese (+17%), and only decreased in yogurt (-2%). Animal-based markets grew in none of the categories, but decreased in each: milk -4%, meat -4%, cheese -3%, and yogurt -2%.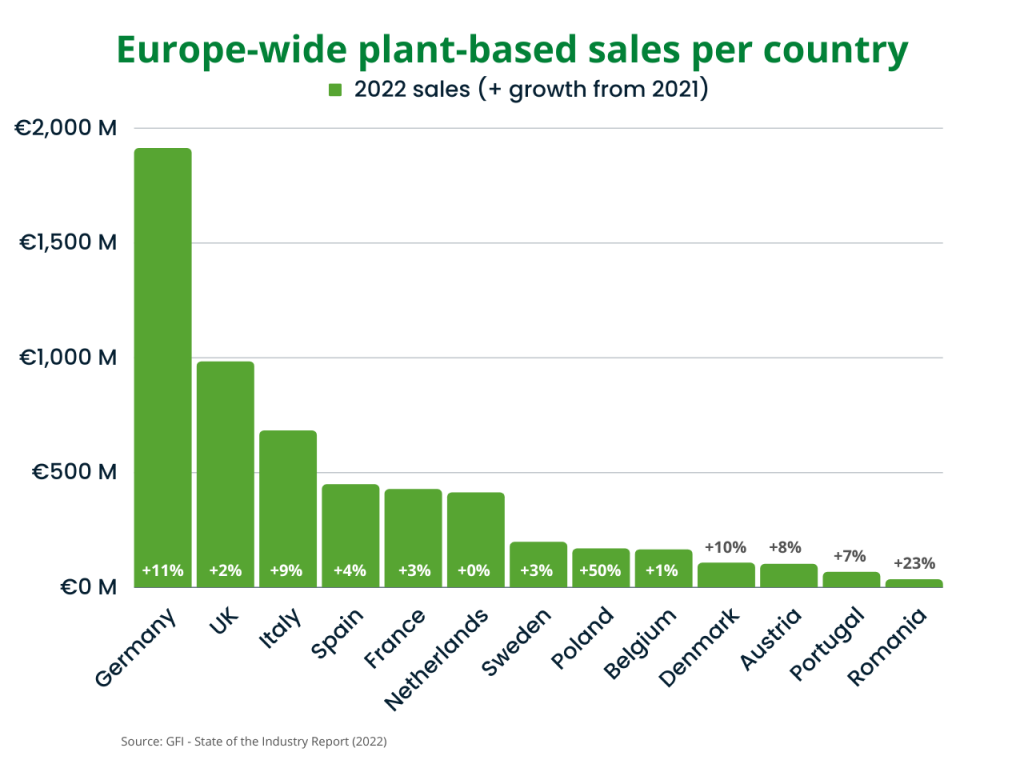 In 2022, according to Euromonitor data, total global retail sales of plant-based meat, seafood, milk, yogurt, and cheese reached $28 billion. (Euromonitor does not report on plant-based eggs.)
Purchase Dynamics
According to a 2022 Mintel report, the reasons for choosing plant-based proteins differ per dietary preference.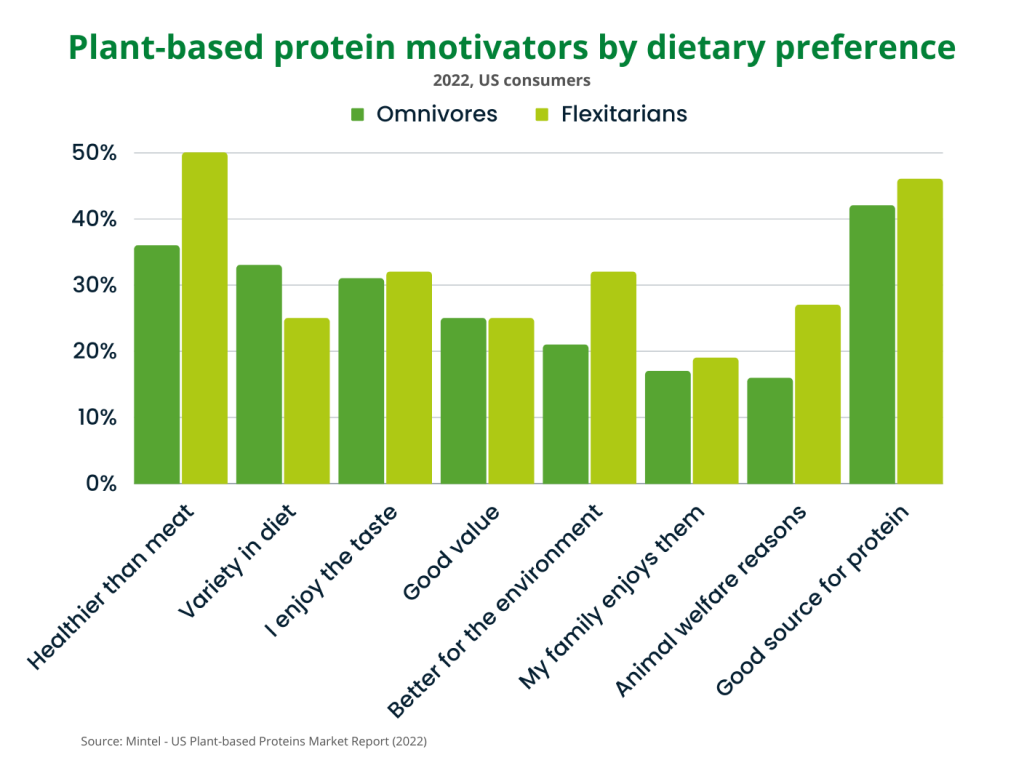 GFI 2022 Plant-Based State of the Industry Report states that the appeal of plant-based foods is on the rise, with an impressive six in ten households purchasing plant-based products in 2022. As consumers become more conscious of their dietary choices, the demand for plant-based alternatives continues to grow steadily. Amongst these plant-based alternatives, plant-based milk stands out as the category with the highest household penetration.
Global Public Funding
Public funding has emerged as a powerful catalyst in the advancement of plant-based foods, leading to transformative research and market expansion initiatives worldwide. One such example is Denmark's leadership in investments for plant-based foods. In 2022, Denmark made a groundbreaking announcement, allocating 675 million kroner ($100 million) to propel plant-based foods' growth and development through 2030, according to GFI. This commitment followed their 2021 pledge of 1.25 billion kroner ($190 million) to become a global leader in plant-based research and production. With an ambitious target to reduce agricultural emissions by 55 percent by 2030, Denmark's Plant Fund aims to encourage farmers to cultivate protein-rich input crops and expand the plant-based product market.
The European Union, too, has played a pivotal role in supporting innovative research and development of plant-based products. Notably, the €11.9 million ($12.3 million) LIKE-A-PRO project has been initiated to create 16 new alternative protein products from various local protein sources. This project aims to promote sustainable and healthy diets by mainstreaming alternative proteins and products. Additionally, the €13.1 million ($14.3 million) HealthFerm project investigates the nutritional benefits of plant-based fermented foods. This research endeavor, funded with €11.3 million ($12.3 million) from the European Union's Horizon Europe Framework Programme for Research and Innovation and €1.8 million ($1.9 million) from the Swiss government, seeks to unlock the potential of fermented plant-based foods in enriching human nutrition.
Public Funding for Alternative Proteins
The support provided by governments to alternative protein research is a reflection of their commitment to achieving a sustainable, secure, and resilient food system. Similar to funding renewable energy and global health research, investment in alternative protein research is essential for ensuring a more sustainable future. By supporting innovative projects and initiatives that focus on plant-based foods, governments can accelerate the development of climate-friendly food solutions, reduce greenhouse gas emissions, and alleviate the strain on natural resources.
The plant-based meat market
Overview of market numbers
All our food-market-related consumer insights
Want to understand how consumers perceive vegan food alternatives? We publish these insights on a variety of topics every month. You can follow them here or through our LinkedIn newsletter.
White papers
Webinars
Want to stay up to date on the latest trends?
News from Vegconomist on meat and fish alternatives
News from Vegconomist on cheese alternatives
News from Vegconomist on milk and dairy alternatives