Key consumer insights on plant-based chocolate
Welcome to our new guide on consumer insights.
In this edition, you will find the most important consumer insights on plant-based chocolate, specifically:
Consumers' favorite plant-based chocolate products and flavors
The most influential claims on plant-based chocolate products
How to market vegan chocolate and a practical example featuring LoveRaw
Now it's time to share what we discovered.
Key consumer insights on plant-based chocolate
Plant-based chocolate is experiencing a sweet growth.
As a matter of fact, 40% of European consumers have purchased plant-based chocolate in the past year*.
And the trend is only growing:
Among the Europeans who have purchased plant-based chocolate, 48% increased their consumption of it last year.
This growth is no coincidence: the market for plant-based foods is worth €5.7 billion, up from €4.6 billion in 2020**.
Every category of plant-based food has experienced growth in this past year, so it's not surprising that this plant-based category has earned some of the same attention.
Let's take a deeper look and see the consumer perception and most important factors of plant-based chocolate.
Consumers' favorite plant-based chocolate products and flavors
Consumers can choose many chocolate products: from classical chocolate bars to spreads and more.
However, these are the top 4 most consumed chocolate products by European consumers:
And would a plant-based version of those products appeal to consumers?
The answer is pretty positive. And they would also be willing to pay a premium price for them:
As can be seen, nearly half of European consumers would like a plant-based version of those chocolate products, and if we add to the equation the rise of vegans and flexitarians, this market becomes a highly attractive one for chocolate producers.
Before jumping on to the next section, take a look at consumers' favorites flavors:
---
Extra tip for producers
Differentiating your brand from others is key to your company's success, especially for start-ups. So maybe, instead of dropping the most consumed products (chocolate bars) with the most popular flavor (chocolate hazelnut), you can try a niche chocolate product/flavor:
Between 30-35% of European consumers have purchased a chocolate spread, making it the least purchased item.
Fruit-flavored chocolates – like coconut, orange, lemon, and raspberry – are less popular.
Same with chocolates made with pistachio or peanut: they don't have the popularity of other nut flavors like chocolate hazelnut.
So if you don't see your brand competing with the big guys at the moment, give a niche plant-based chocolate product a try.
---
Most influential claims on plant-based chocolate products
When buying plant-based chocolate, European consumers are searching for specific claims, with these being the top three:
Consumers are willing to spend extra money on vegan chocolate with those claims, so having those will make your brand gain a competitive edge.
And of course, environmental claims can't be left out.
Having sustainable/environmentally friendly packaging is very important for 75% of European consumers, so it's an important factor to take into account when designing the product.
And if you add the following sustainability claims to your packaging, even better:
Reduced Carbon Footprint or No carbon footprint
Environmentally friendly
Fair trade
Reduced Carbon Footprint/No carbon footprint is the most appealing claim and the one for which European consumers are most willing to pay a premium price, so brands that are able to incorporate this will have a more attractive product for consumers.
Quick fact: 78% of consumers worldwide generally trust products with the V-Label symbol more than products without it.
How to market vegan chocolate
There are many ways to market vegan chocolate, but these are our two recommendations:
1. Market it as a healthy treat
Check this out:
Between 70-80% of European consumers who eat plant-based chocolate do it as a treat/reward.
40% of European consumers who eat plant-based chocolate say it's healthy.
While regular chocolate is perceived as unhealthy, the opposite happens with plant-based chocolate products.
So marketing these products as a healthy way to unwind and relax without making sacrifices is a powerful way to appeal to consumers.
2. Focus on taste
Does your product excel in taste? Then just go with it.
As we have stated in previous newsletters, the most important factor for consumers when it comes to plant-based products is taste:
Taste is important for 82% of plant-based meat eaters.
Taste is important in plant-based seafood for 78% of Asian consumers and for 52% of US consumers.
85% of consumers state that taste is important when buying vegan dairy products.
Also, remember that the other half of plant-based chocolate consumers don't necessarily see it as a healthy product, and they just want a treat regardless of the consequences.
Of course, you can mix it up a little and focus on taste but drop health claims as well.
And that's exactly what we are going to check out in our practical example.
Practical Example: LoveRaw
In our practical example section from today's newsletter, we will talk about how LoveRaw puts focus on taste to promote their plant-based chocolate products but also adds some health claims.
First, let's look at how they communicate about their products: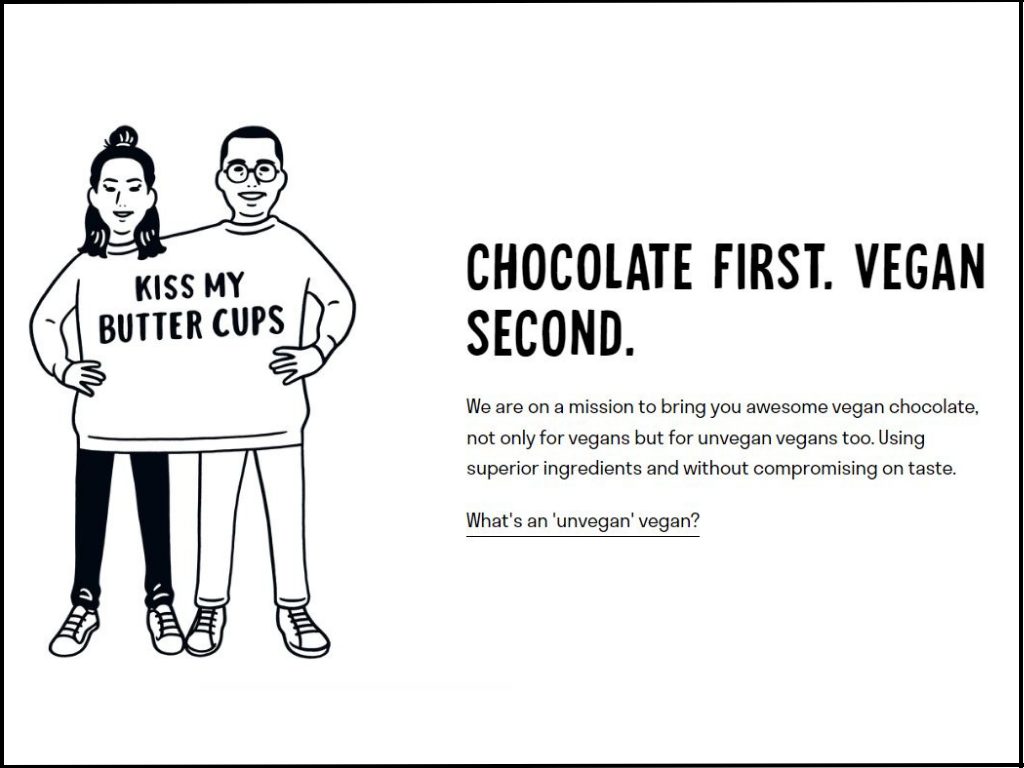 As we can see, they focus on the tasty features from their products, and also add some health claims by communicating about their natural ingredients and the non-use of palm oil.
In the first picture, they also appeal to vegans and non-vegans (almost certainly aimed at flexitarians), which is the best way to broaden the market for your plant-based product.
Now check out some of their vegan chocolate products:
There are a couple of noteworthy things in the image above:
Two of their products feature one of the most consumed chocolate products (chocolate bars) with two of the most popular flavors (hazelnut and caramel). For these two products, they focus on some of their features, like no artificial ingredients and no palm oil.
However, in the two other products, they really emphasize the low caloric intake per serving, appealing to consumers who may be worried about this so they can enjoy a self-indulgent moment without guilt.
And last but not least, more focus on taste on their packaging:
LoveRaw proves that taste alongside some health claims is a winning combination, so if this taste approach works for your brand, you can definitely follow their example.
And remember that marketing your product as a really healthy (even sugarless) vegan chocolate is a very good approach as well.
Quick fact: 40% of global consumers associate V-Label with better taste.
Now it's your turn
We really hope you enjoyed our new consumer insights guide. If you want to learn more about this topic, we have a whitepaper on the key innovations and market numbers of vegan sweets and confectionery.
And now we'd like to hear from you.
Which consumer insight from today's guide did you find the most useful?
What vegan chocolate product and flavor would you market? What approach would work best for it?
Either way, let us know by leaving a quick comment below.
See you in the next newsletter.
List of Resources
*All consumer data has been extracted from a July 2022 study on chocolate by FMCG Gurus. Ten European countries with 1,000 respondents per country participated in the study. To obtain the European data, the percentages obtained by each of the ten European countries participating in the study were averaged.
** Data from the GFI Europe study on plant-based sales published in April 2023.