Key consumer insights on plant-based meat in 2022
Welcome to our guide on consumer insights.
In this edition, you will find the most important consumer insights in 2022 regarding plant-based meat, specifically:
Why plant-based meat consumption increased from 2020 to the present
The main consumer demands for plant-based meat
What barriers consumers may encounter in plant-based meat products
Now it's time to share what we discovered.
Key consumer insights on plant-based meat in 2022
A growing proportion of consumers are reducing their meat intake.
In fact, check out this table
Consumers are shaping their diets to incorporate less meat. This trend will continue to grow over the years: almost two-thirds of global consumers who eat meat regularly are either attempting or considering reducing their intake over the next twelve months.
So let's find out what the most important factors are for consumers when it comes to meat alternatives.
Health and Sustainability
First of all, let's compare the proportion of consumers who eat meat substitutes or replacements from 2020 and 2022:
Just like in the table from the beginning, there is a clear consumer trend towards meat alternatives. So why do consumers eat meat substitutes? Here are the top three reasons:
83% state that meat substitutes are better for the environment
82% state that meat substitutes are healthier
72% state that meat substitutes are more trustworthy
Health and sustainability are the main reasons for seeking out these products, highlighting how people are putting greater emphasis on long-term health maintenance, and are making the link between well-being and sustainability.
So vegan brands should promote health claims to position products as guilt-free and conveniently nutritious, as well as having sustainability claims.
Real and Authentic Ingredients
74% of global consumers say it is important that food and drink are 100% natural.
And the same goes for meat alternatives:
69% of global consumers who eat meat alternatives state that it is important that they are naturally formulated,
and 79% think it is important for these products to be made with familiar or well-known ingredients.
In fact, 68% of global consumers have stated that they regularly check ingredient lists when purchasing plant-based food and drink, so let's check out what they look for when checking ingredients:
This behavior is due to the two factors mentioned in the first table. Consumers are concerned about their health and are looking for trustworthy ingredients, highlighting how consumers are becoming more conscious of and cautious about what they eat.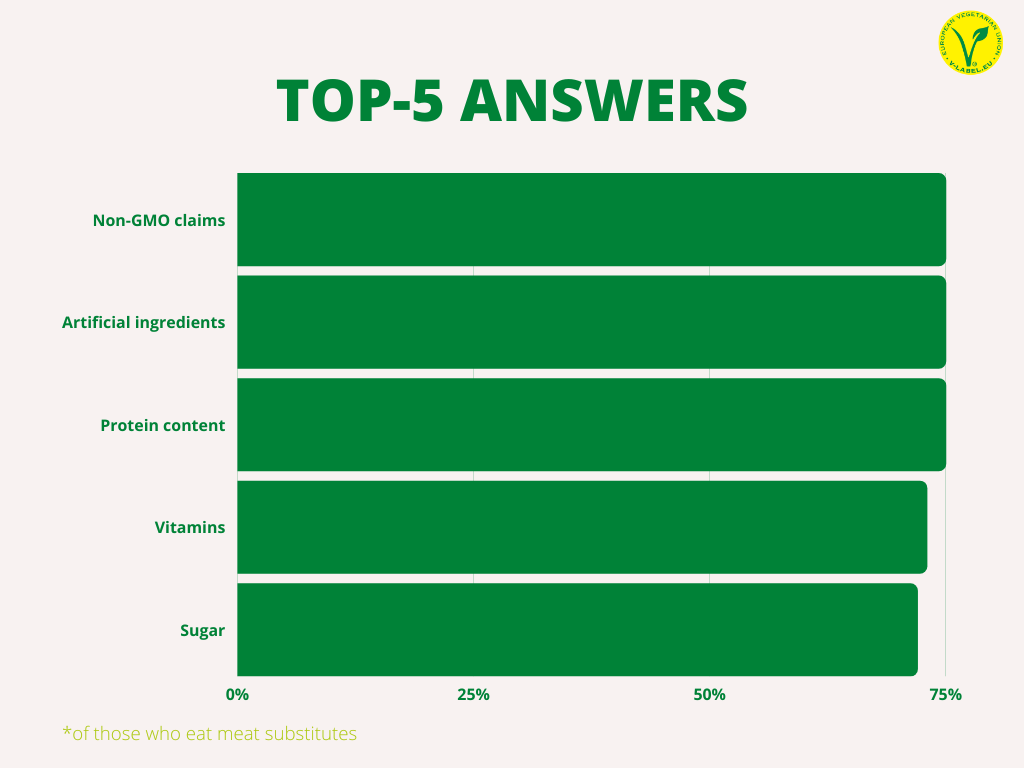 When checking nutritional labels, consumers want reassurance that products are free from artificial and chemical ingredients deemed detrimental to their health and the wider environment.
Practical example: Heura, a Spanish vegan meat company that is having huge success, does a great job with this. They show consumers how much protein, fat, saturated fat, and kcal their products contain compared to meat products. They also show the ingredients of their products, broken down in a simple and visible way, emphasizing how natural their ingredients are.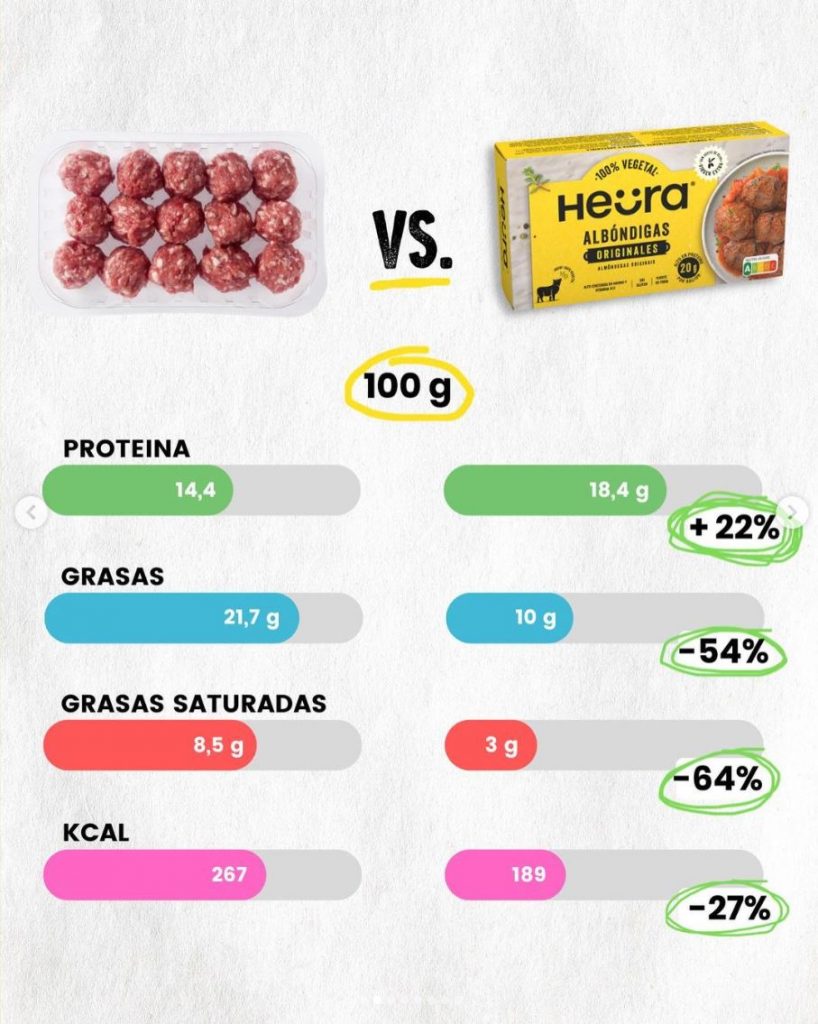 In addition, they often show the environmental impact of their plant-based versus non-plant-based products.
So it is important that vegan brands are able to convey the nature of their ingredients to the consumer: real and authentic.
As said, Heura started in this market in Spain. So if you want to know more about the Spanish vegan meat market, check out the webinar we organized just a month ago.
Taste, texture, and appearance
One of the most important factors for any plant-based product is that it should be as similar as possible to the product it is intended to replace.
Therefore, we can assume that the product's taste, texture, and appearance are as important or even more important than other factors such as health or environment. But nothing better than this graph to confirm it.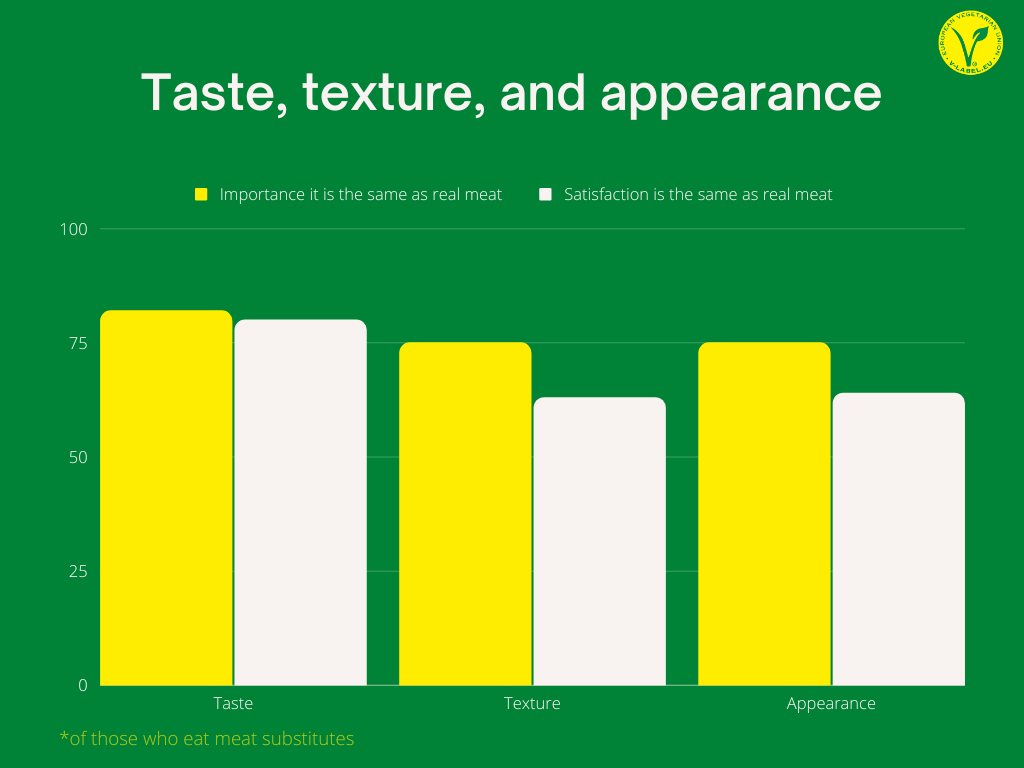 The numbers are pretty high, with taste being the most important one with 82%. As we can see, consumers are pretty satisfied, although more can be done to increase the texture and appearance of vegan meats.
If consumers are to turn to alternative products in the long-term, it is crucial that they are not associated with compromise and sacrifice. People who turn to meat substitutes place a high level of importance on taste, texture, and appearance, highlighting how meat alternatives must mimic the experience of eating actual meat products.
Quick fact: 40% of global consumers associate V-Label with better taste.
Variety of alternatives and innovations
There is a market opportunity for companies willing to innovate with their products.
Currently, one-quarter of global consumers who purchase meat substitutes say they are dissatisfied with them, and the two main reasons are the following:
69% of consumers state that there is a lack of range of products, or not enough brands
59% of consumers state that there is a lack of availability of different types of products (i.e., chicken, seafood, etc.)
This data shows that there is a gap in the market for vegan companies that break away from traditional plant-based meat products and offer different alternatives to target the growing proportion of people avoiding or moderating their intake of animal products.
But even if innovation is highly valued, there are some customers who are more reluctant to try: 21% of global consumers say that they are willing to try cultured meat.
Since we now know from this report that consumers place a high level of importance on products being 100% natural, it is no surprise that many consumers tend to shy away from cultured products developed in a laboratory, despite the benefits such products may be associated with.
Although no more than 20% are willing to try this meat alternative right now, perhaps in the future we will see a more open attitude from consumers towards these products as they become more familiar.
Possible concerns and barriers for consumers
Although there are many positive points in favor of plant-based meats, consumers have certain concerns that companies in the plant-based sector need to address.
The top-3 concerns are the following:
As we have mentioned before, taste and texture are really important. Vegan brands need to keep working on this aspect and on the price. For many, this is a barrier, so it is a good option to have a range of products with a variety of prices.
For example, emphasizing taste and natural ingredients could improve the perceived value of the product and help sell at a premium price. Another option could be to create affordable options to help lower-income consumers who may be discouraged by the high price of plant-based alternatives.
Now it's your turn
We really hope you enjoyed our first consumer insights guide. If you want to learn more about this topic, we will publish a whitepaper on plant-based meat soon, and you can download it here. We will send it directly to your email as soon as we post it.
And now we'd like to hear from you.
Which consumer insight from today's guide did you find more useful? What other topics would you like to hear about?
Let us know by leaving a quick comment below.
See you in the next guide.
List of resources
This data was extracted from FMCG Gurus