Key consumer insights on vegan cosmetics
Welcome to our new guide on consumer insights.
In this edition, you will find the most important consumer insights on vegan cosmetics, specifically:
Consumer concern over animal testing for cosmetic products
The most influential factors in cosmetics products and purchase behavior
The main barriers to vegan cosmetics and how labeling might help consumers
How to appeal to consumers' concerns with a practical example featuring E.L.F. Cosmetics
Now it's time to share what we discovered.
Key consumer insights on vegan cosmetics
The vegan cosmetics market is promising.
This market size was valued at $16.02 billion in 2022 and is expected to reach $20.8 billion by 2025, growing by 6.3% over the forecast period and $26.1 billion by 2030.
And it's no wonder why this is happening.
Consumers are extremely concerned about the state of the cosmetics industry due to increasing awareness of the abusive animal practices that take place within this industry (the same happens within the fashion industry).
And this is further reflected in a study* commissioned by FRAME (Fund for the Replacement of Animals in Medical Experiments), where over 400 consumers participated:
84% of those taking part in the survey say they wouldn't buy cosmetics if they knew the product (or one of its ingredients) had been tested on animals.
81% of respondents say they would not buy a household product if they knew the product (or one of its ingredients) had been tested on animals.
77% of respondents cite 'not tested on animals' as a factor in their decision to buy a cosmetic or household product.
Concern is also shown in our own study** on vegan cosmetics:
78.7% of respondents are "very concerned" about the use of animals in cosmetics for testing, while 15.4% are "quite concerned".
71.1% of respondents are "very concerned" about the use of animal ingredients in cosmetics, while 19% are "quite concerned".
Ethics play an important role in the cosmetics market, and it's already shaping the direction this industry is going. Consumers no longer ignore animal testing.
Let's take a deeper look into consumer behavior, most important factors, and main barriers when it comes to vegan cosmetics.
---
*For analyzing the following consumer insights, we will use the data obtained from our cosmetics study, where 10,000 consumers participated (around 9,800 from 21 European countries and 200 from Latin America)*
---
Frequency and place of cosmetics purchase
Consumer purchasing behavior serves as an indicator of the industry's potential.
So what is the consumer's purchase frequency?
The most prominent number belongs to the response "A few times a year", accounting for 56.4% of the total sample, while the percentage of 35.6% belonging to the response "A few times a month" is also worthy of note.
As can be seen, almost the entire sample consumes cosmetic products throughout the year, which is further evidence of a strong industry.
Now let's check out the main places of purchase:
What is the most relevant aspect of this response? That although 42.6% buy cosmetics online, the rest decide to do so in person.
And due to the nature of the product, this will be a very important factor in the purchasing decision, as we'll explain below.
Consumers use of vegan cosmetics and outlook on premium price
Cosmetics brands will find this interesting:
85% of consumers regularly use cruelty-free and vegan cosmetics products,
and 86% would like to start buying more cruelty-free and vegan cosmetics products.
These two results show that the vegan cosmetics market is not only currently a force in the market but also has a solid future projection.
And if you add to the equation the intention and willingness from consumers to pay a premium price, you get a winning combination:
As seen above, the vast majority of consumers are ready to pay a premium price to satisfy their ethical concerns. Companies that match these consumers' values have a greater chance of adapting to the industry necessities and becoming a market force.
Most influential factors on cosmetics products
When buying cosmetics, consumers are searching for specific claims, with these being the top eight:
Once again, this stresses the importance of cruelty-free and vegan cosmetics products. This also highlights the rise of natural ingredients, thus confirming the importance and strength that the "clean-beauty" trend is gaining in cosmetic products—a trend that is closely associated with vegan cosmetics.
For 29% of consumers, it is crucial that the cosmetic product has a clear list of ingredients. And there's a reason for this.
Ingredients as a barrier to cosmetics products and labeling as the solution
Cosmetic products contain ingredients that are hard for consumers to identify.
If it is already difficult to identify the ingredients of food products, one can imagine the hassle consumers have to go through to be certain that a cosmetic product is vegan.
That's why almost 50% of consumers don't feel confident at identifying animal-derived ingredients in cosmetic products.
Curious enough, the other half answered to feel confident about it.
However, when asked to identify the animal-derived ingredients from a list of commonly found ingredients in cosmetic products, this happened:
Absolutely no one was able to identify all of the animal ingredients listed. Some ingredients – like guanine, squalene, retinol, or ambergris – were correctly marked as an animal ingredient by only 18% of the survey participants.
This shows that consumer knowledge in this area is limited, so companies must take steps to help consumers identify which ingredient is of animal origin and which is not.
And this is where labeling makes the difference:
75% of consumers consider it very important that brands selling vegan cosmetics have their vegan products certified by an independent third-party certification such as V-Label.
By labeling the cosmetic product, brands will solve the worry of the 29% of consumers who want a clear list of ingredients.
It will also make the purchase process much easier: as indicated at the beginning of the newsletter, the majority of cosmetics products are bought in an on-site context, where there is not as much time to search for the origin of the ingredients as in an online context, so labels can make all the difference.
Quick fact: 78% of consumers worldwide generally trust products with the V-Label symbol more than products without it.
Practical example: E.L.F. Cosmetics
In our practical example section from today's newsletter, we will talk about E.L.F. Cosmetics and their main communication practices to appeal to consumers.
E.L.F. Cosmetics is one of the biggest players in the cosmetics industry…and they just so happen to be a 100% vegan cosmetic brand.
We can see how they address some consumer concerns:
Here, they address the most important thing right away: being vegan and cruelty-free, so consumers can purchase their products guilt-free.
They also promote the clean nature of the ingredients from their products, satisfying consumer demands for "clean-beauty." E.L.F. Cosmetics goes further in this topic and explains why their ingredients are clean, while also promoting their competitive prices:
And finally, they also promote their environmental efforts and their commitment to sustainably sourcing their ingredients: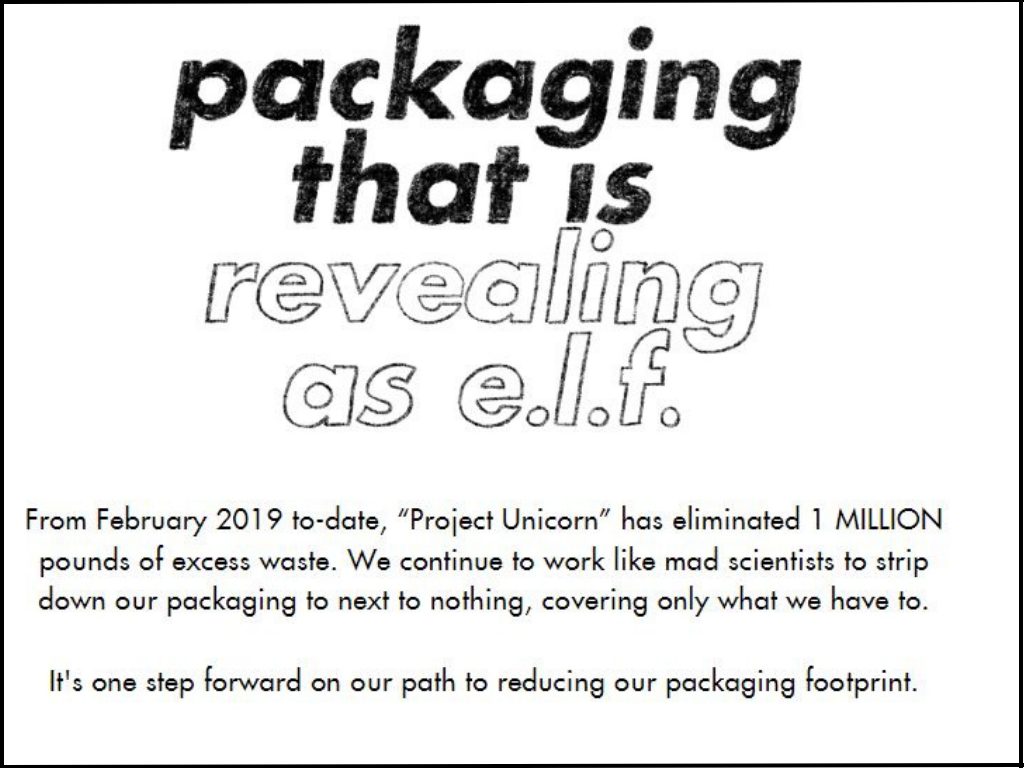 To sum up: E.L.F. Cosmetics appeals to all the consumers' concerns and demands by:
Highlighting their promise to make all their cosmetics vegan and cruelty-free
Following the clean beauty trend
Developing environmentally friendly packaging
Having sustainably sourced materials
Ensuring quality and affordability
So cosmetics brands should consider following this example to increase their chances of winning over consumers.
Now it's your turn
We really hope you enjoyed our new consumer insights guide. If you want to take an even deeper dive into vegan cosmetics, check our case study on vegan cosmetics.
And now we'd like to hear from you.
Which consumer insight from today's guide did you find the most useful?
Is your product following the clean beauty trend? Does it have a label for helping consumers?
Either way, let us know by leaving a quick comment below.
See you in the next guide.
List of Resources
* Data from the FRAME study on animal testing for medical, chemical, and cosmetics purposes published in summer 2020.
** Data from the V-Label study on vegan cosmetics published in November 2022.