Europe Goes Plant-Based: The Latest Trends and Developments in the Veggie Food Market
ON DEMAND WEBINAR
(register and receive access to the recording immediately)
Whether you are simply interested in gaining insights about the innovative plant-based foods industry, planning to launch your own products access the recording of this webinar and dive into the latest trends and developments of the rapidly evolving veggie market.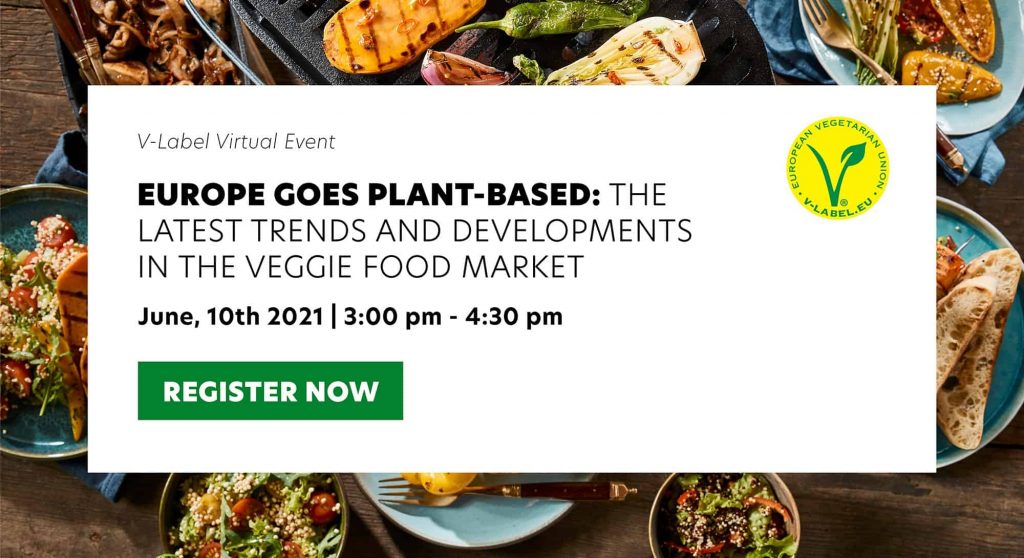 How is the market of vegan and vegetarian products in Europe developing?
We give you details and figures of the past years' sales of meat-and dairy free food products and show you what consumers are searching for nowadays. Dr. Kai-Brit Bechtold is an expert in this field and has worked for several years on consumer research for ProVeg International.
Launching a food product to the market
Learn best practices from the Spanish vegan cheese brand YesBut. and the French vegan ice and sorbet brand Poptails by Lapp. How did they enter the market, what were their challenges and how do they have the potential of the future?
What do retailers need?
Floor Buitelaar, Plant-based Food Retail Consultant and Managing Partner at Bright Green Partners helps companies to understand the need of retailers regarding plant-based protein alternatives and will share useful hints to succeed in this industry. Buitelaar will also share a guide of Do's and Don'ts.
There will be an opportunity to ask the panelists questions at the end of the event during our Q&A session.
For this event, we are featuring top speakers from all over Europe:
Dr. Kai-Brit Bechtold | Senior Consumer Research Scientist, ProVeg International
Cécilia Thomas | Founder of Poptails by Lapp
Albert Solé | CEO at Vegan4All
Katharina Kretschmer | Head of V-Label Germany, ProVeg International
Floor Buitelaar | Plant-based Food Retail Consultant and Managing Partner at Bright Green Partner
Swantje Tomalak | Event moderator and Project Manager for VeggieWorld France and 1·2·3 Veggie
About V-Label
Across the globe, more than 50,000 products from more than 4,300 licensees now carry V-Label. V-Label, established in Switzerland in 1996, is an internationally recognized, registered seal for labeling vegan and vegetarian products and services. It is a reliable, go-to shopping guide for consumers.